Thursday, June 06, 2019
CGDI MB Program New Keys for Old Benz W202 W208 W210 by OBD 1997-1998
In this 
CGDI MB Prog programmer
 instruction, 
OBD2TOOL
 will show you how to use CGDI MB programmer to add new keys for old Mercedes Benz W202 W208 W210 kline 38 pin car from 1997-1998.
Procedures:
Step 1:Calculate Password Connect CGDI MB Programmer to vehicle and your laptop,then run CGDI MB software.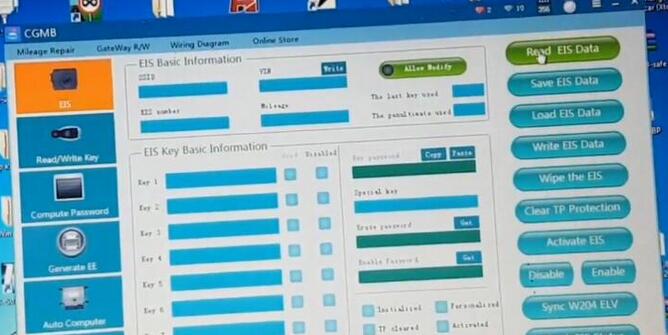 Select [EIS] menu,then click [Read EIS Data]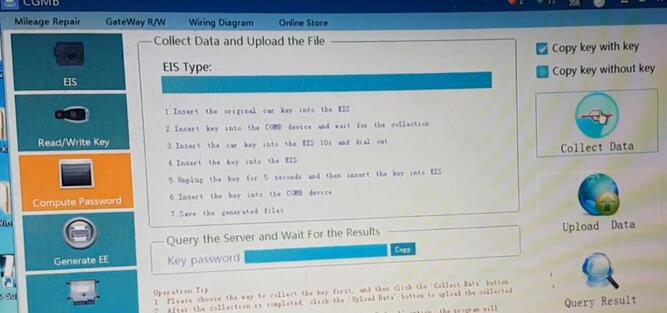 Go to [Compute Password] menu,then [Copy key with key][–>Collect Data]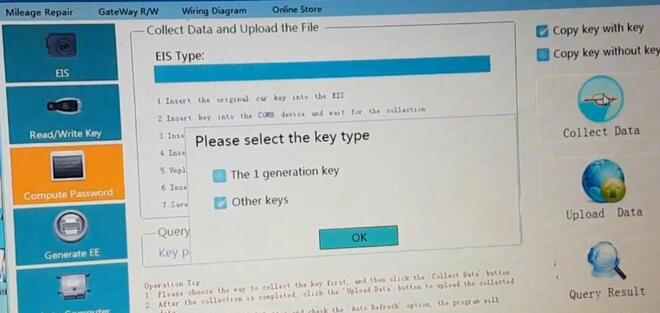 Select key type:Other keys,click [OK] to continue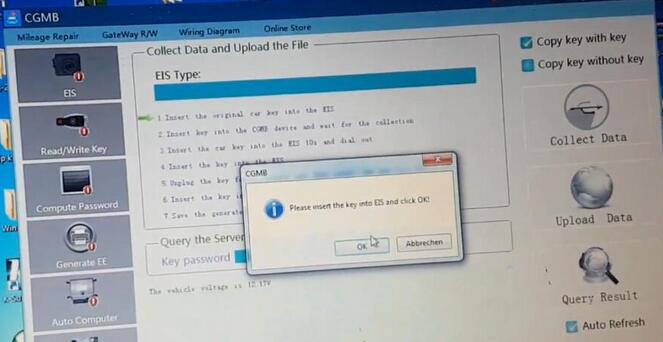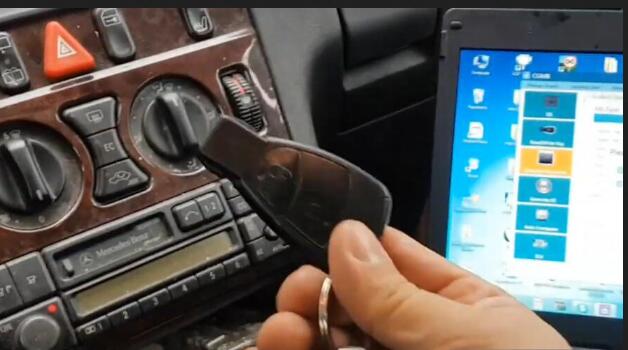 Please insert the key into EIS and click [OK] to continue
This is a -Kline EIS,the operation is different from the ordinary EIS,please follow the prompts to operate,to prevent the code!
Please insert the key into the CGDI MB device and click [OK] to continue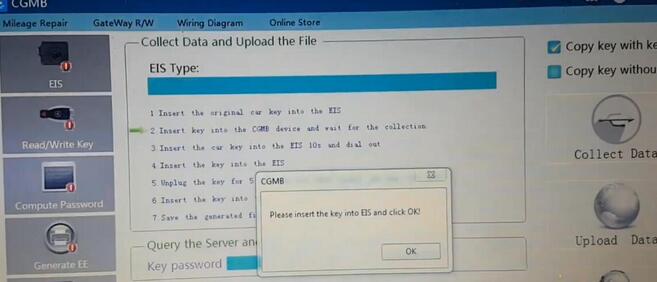 Wait until it prompt you to insert the key into EIS and click [OK]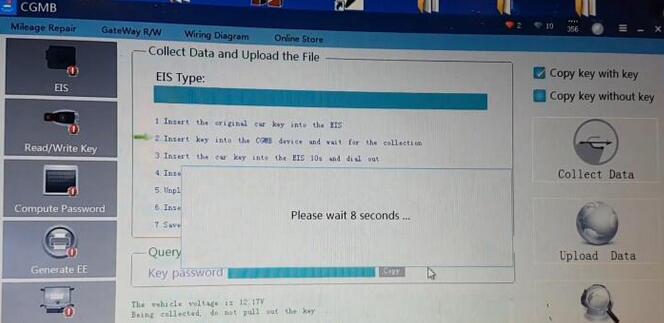 It will ask you to wait several seconds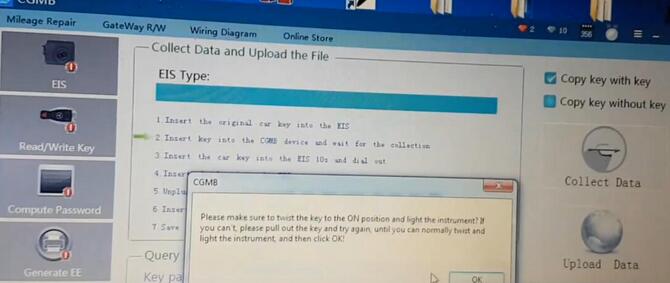 Then prompt you to make sure the key to the ON position and light the instrument?If you can't,please pull out the key and try again,until you can normally twist and light the instrument and then click [OK]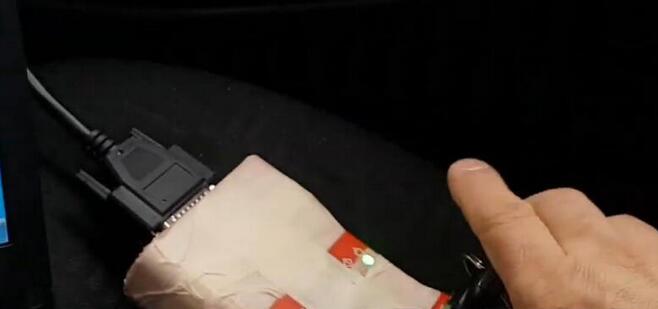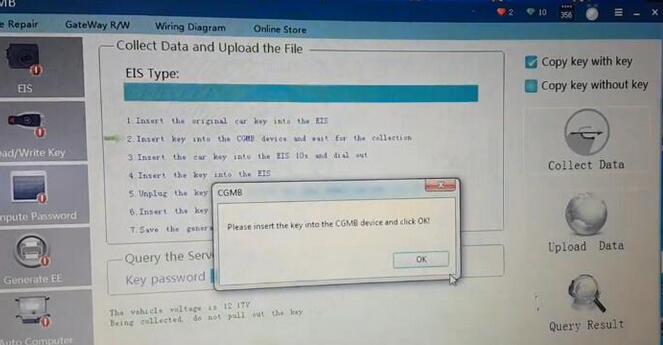 Please insert the key into the CGDI MB device and click OK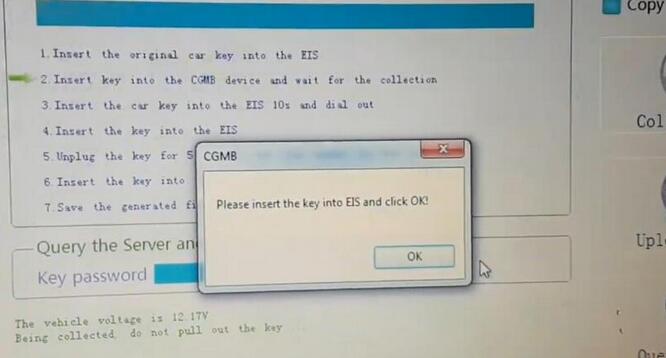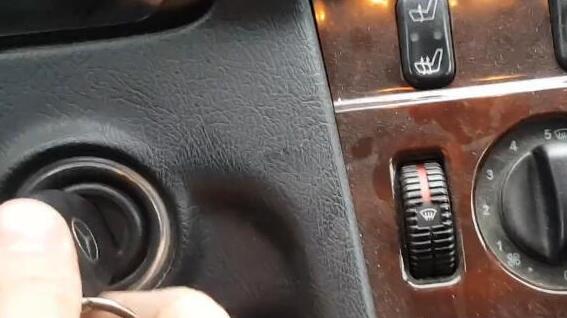 Now you need to insert the key into ESI again,then click [OK]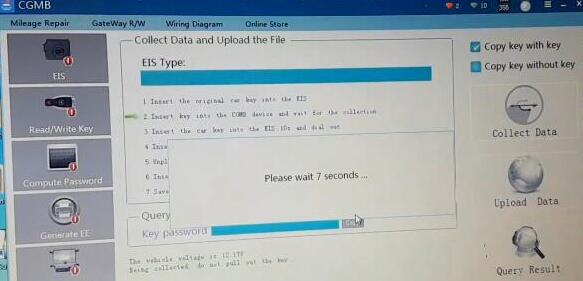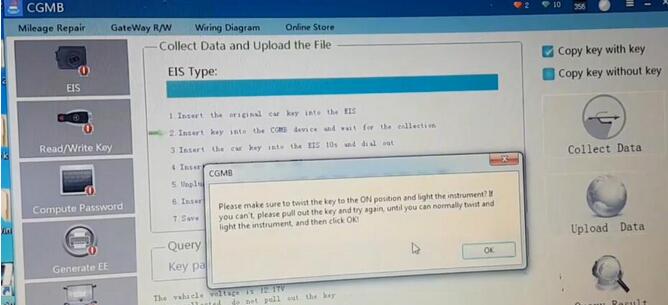 Perform it again,click OK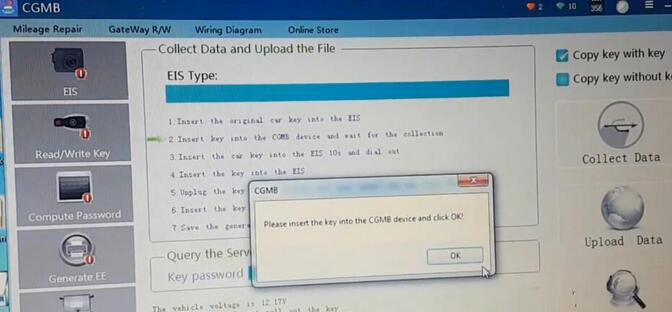 Insert the key into the 
MB Key Programmer
,then click [OK] to continue If it prompt yo with same operation instruction,just follow it.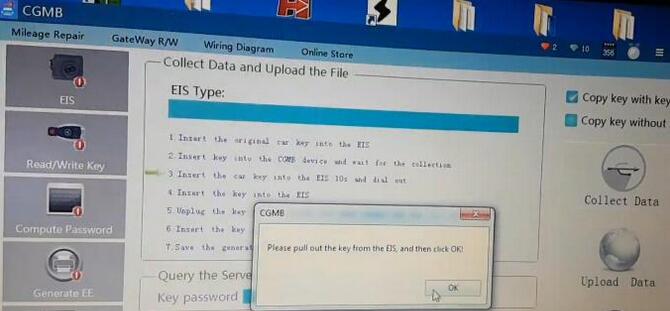 Insert the car key into the EIS 10s and dial out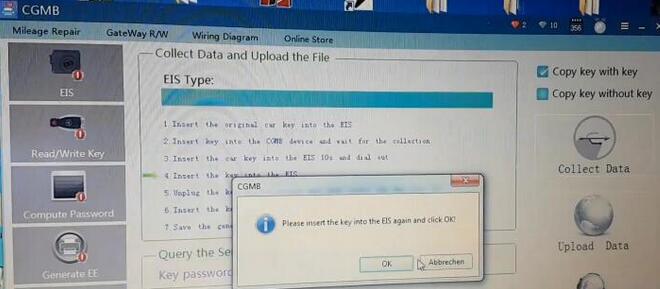 Please insert the key into the EIS again and click OK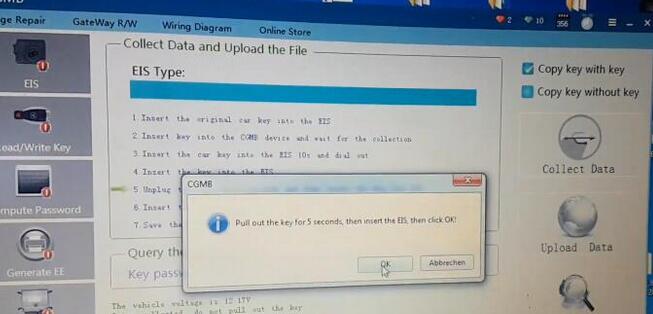 Pull out the key for 5 seconds,then insert the EIS,then click OK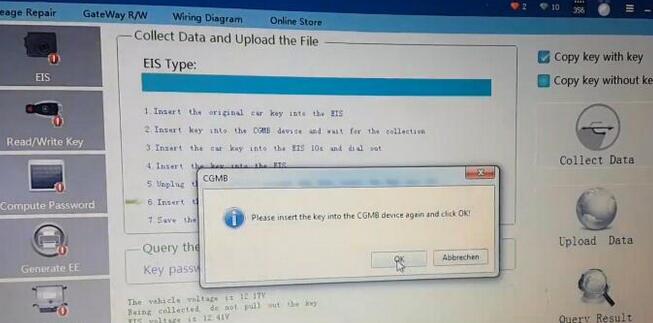 Please insert the key into the CGDI MB Benz device again and click [OK]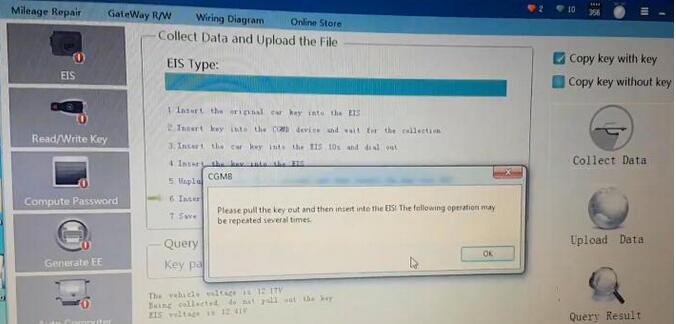 Please pull the key out and then insert intot he EIS!The following operation may be repeated several times.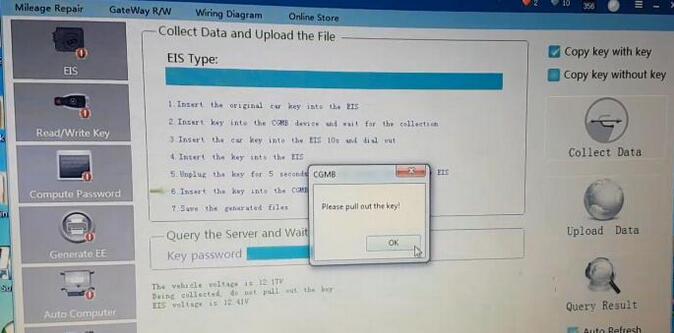 Please pull out the key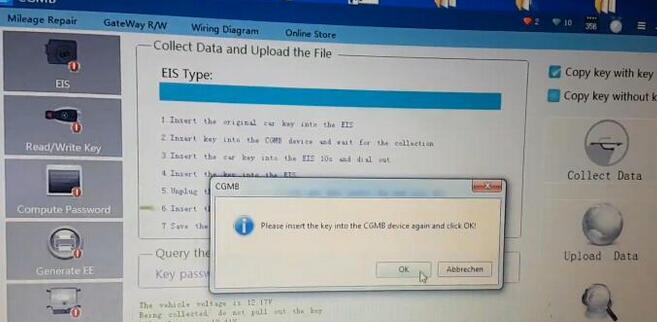 Please insert the key into the EIS again and click OK ….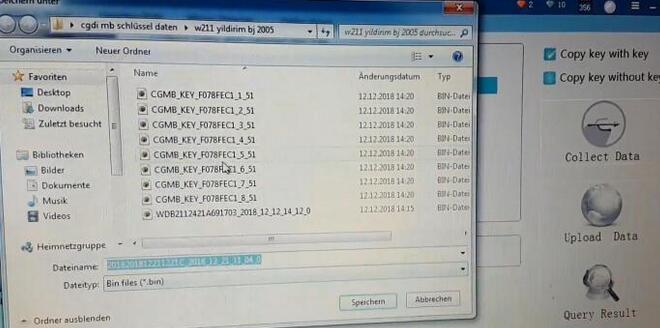 Now save the generated files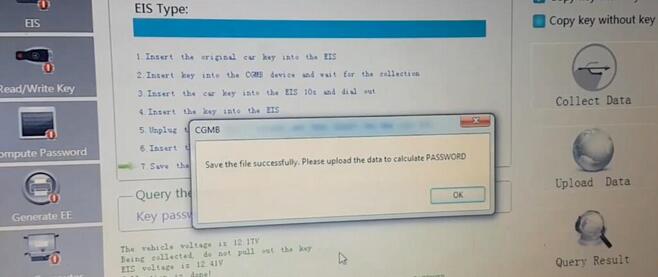 Save the file successfully,please upload the data to calculate PASSWORD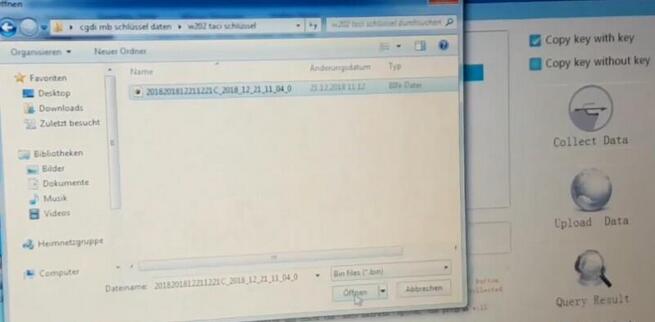 Click [Upload Data],then upload the file you saved just now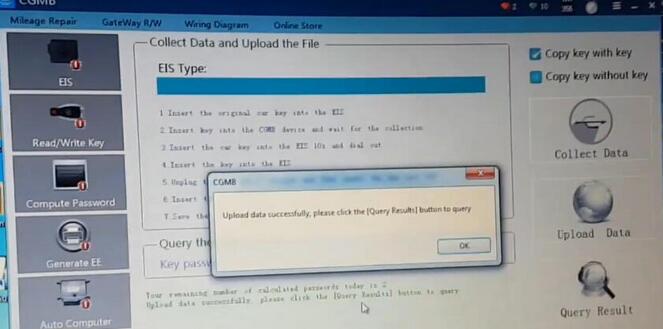 Upload data successfully,please click the [Query Result] button to query.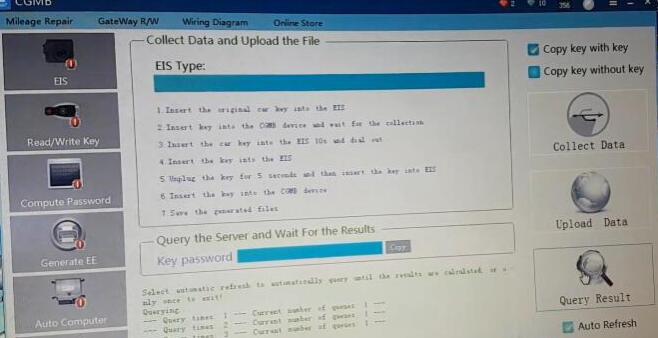 Click [Query Result],it will take you several minute to query result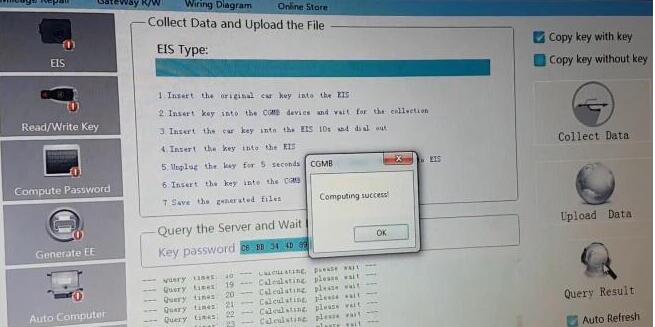 Computing success!Click [OK] to continue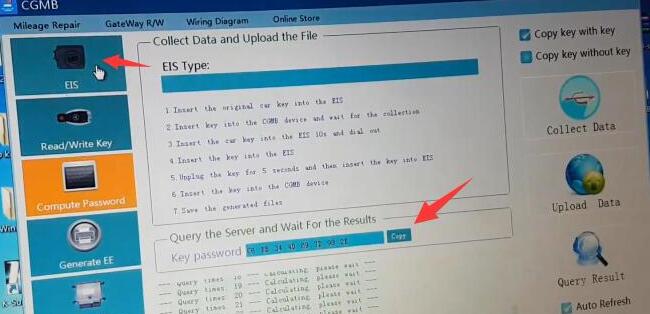 Here we get password,click [Copy] button,then select [EIS] menu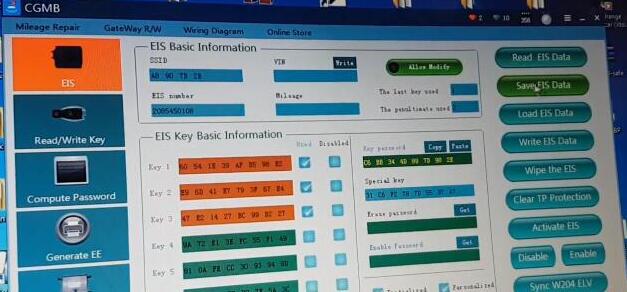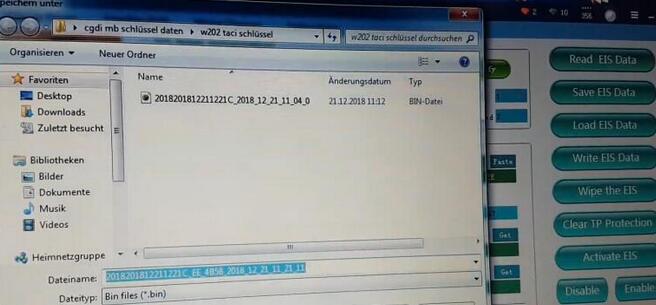 Click [Paste] button to paste password,then click [Save EIS Data] Step 2:Generate Key File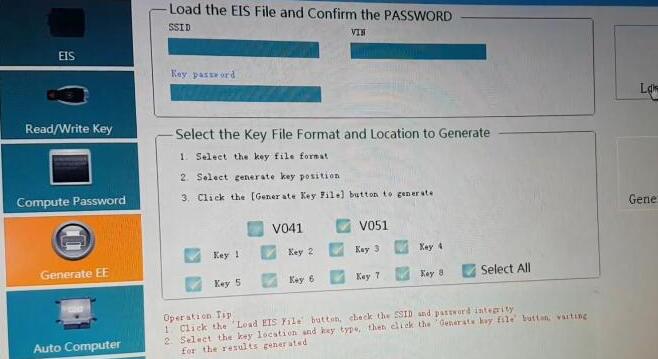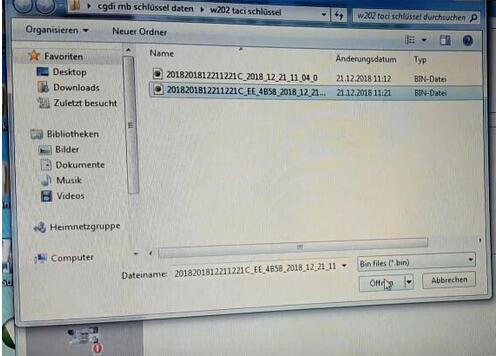 After saving EIS data successfully,select [Generate EE] menu Select key file format "V051",then click [Load EIS File] you saved just now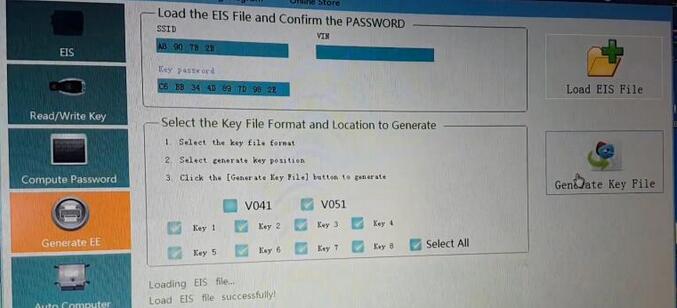 Click [Generate Key File]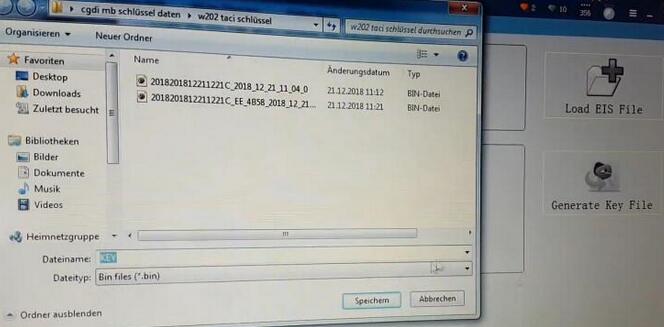 Now,save the key file generated Step 3:Program New Key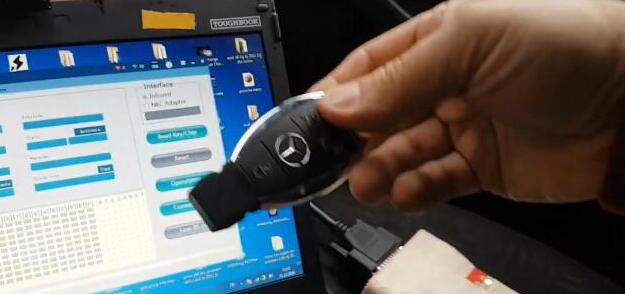 Insert the new key into CGDI MB device Select [Read/Write Key] menu,then click [Read Key/Chip] button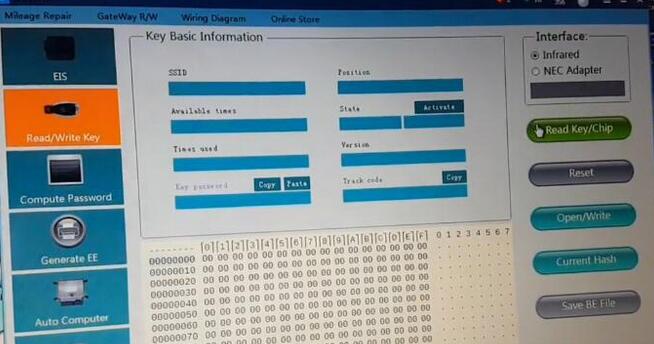 Click [Open/Write] And it prompt you to choose key type format:41 format and 51 format,click [OK] to continue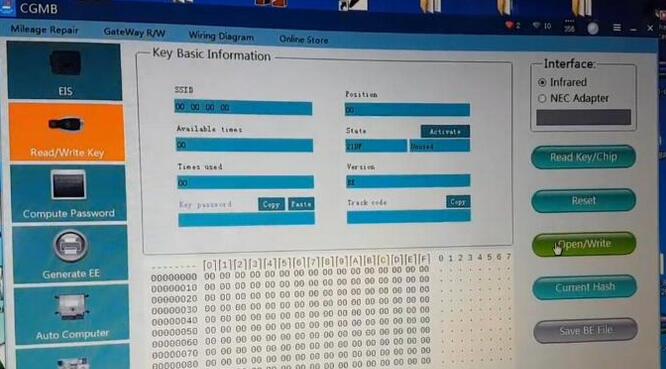 Select a key file to write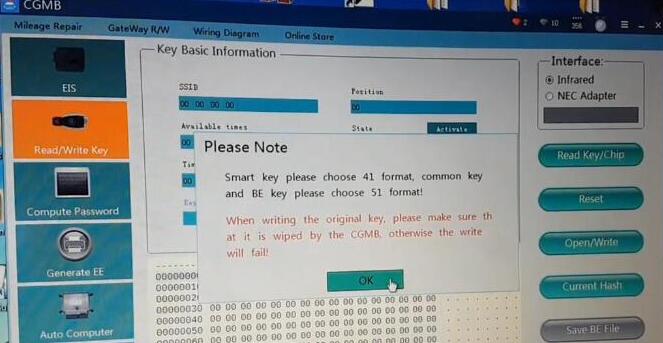 Write success!Click [OK] to continue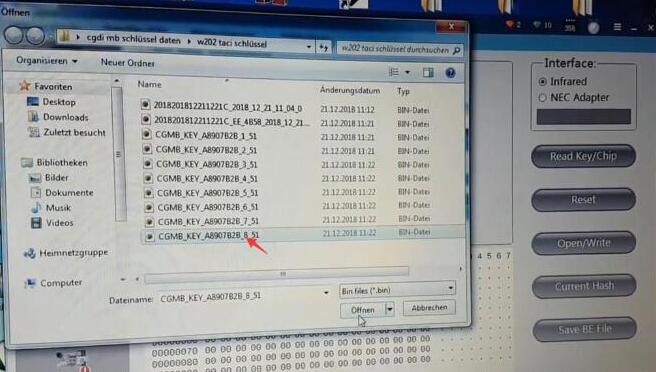 Test new key on vehicle,it can light instrument and start the engine! Done!
Posted at 11:38 pm by youobd2
Permalink
Wednesday, May 29, 2019
Here is the mbstartool.com engineer solution to Mb Star C3 V2018.9 up DAS Xentry multiplexer initialization failed problem. Error message: Initialization of diagnosis multiplexer failed. mb-star-c3-multiplexer-failed Possible causes: The link between
Here is the obd2tool.com engineer solution to Mb Star C3 V2018.9 up DAS Xentry multiplexer initialization failed problem.
Error message:
Initialization of diagnosis multiplexer failed.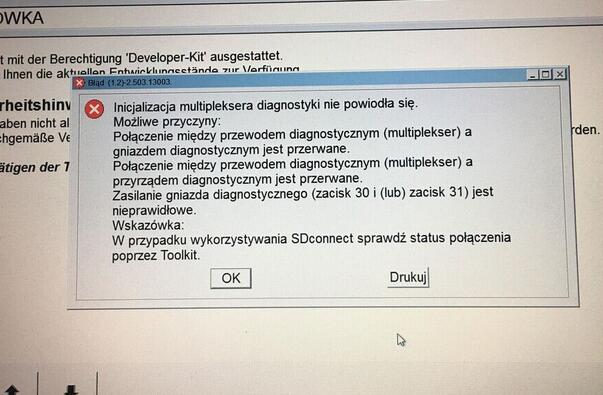 Possible causes:
The link between the diagnosis multiplexer and the diagnostic socket is interrupted.
The link between the diagnostic multiplexer and the diagnostic unit is interrupted.
The voltage supply at the diagnostic socket (circuit 30 and (or) circuit 31) is faulty.
Note:
When using SDconnect,check the connection status using the Toolkit.
Solution:
1. First check if you use the correct software for Star C3 not sd connect c4, you do not modify software by yourself and it passes self-test.
If all these are okay, replace the Config file in c:\program\mecredes-benz\config
Config file
https://mega.nz/#!vhFEXBiL!jeFN5y38eCEH3ZitnQ2lvOGKBn3hJTWb4KsZ70I537k
2.If still not work, check device and vehicle communication
3. Otherwise send your MB Star C3 and software back to repair.
Posted at 06:03 am by youobd2
Permalink
Sunday, May 19, 2019
KTM Bench pcmflash 1.99 read SID208 ECU data Confirmed working
Confirmed: Peugeot Boxer 2014 SID208 ECU data reading with KTM Bench pcmflash 1.99.
Image of KTM Bench connected to the ECU and the computer.
ktm-bench-pcmflash-1.99-read-sid208-ecu-data-01
KTM Bench pcmflash 1.99 software and driver free download:
https://mega.nz/#!B9oTQahI!HNlNhOuMYmYghLlLyCSECV6GyLbDJLg8wTZrv1J2m10
including wiring diagram.
No password
100% safe to use
No tokens limitation
How to install pcmflash1.99 for running with KTM bench? How to use PCMflash 1.99 to read write ECU data?
Using tips:
1). The computer can't be connected to the internet;
2). KTM Bench can't be updated;
otherwise the machine may be locked and will be charged for repair.
The advantage of dismantling ECU and not dismantling ECU:
1). Easy to operate and save time up to 5-10 minutes. Otherwise it may take more than 20minutes to dismantle the ECU and even more than 1 hour, also the box may be damaged during dismantling.
2) Dismantling the ECU may damage the original ECU sealing condition.
3) After dismantling the ECU, the boot must be connected.
4) After reading out the data, it needs to reseal ecu.
How to use KTM Bench to read SID208 ECU?
pcmflash 1.99 read the ECU data according to the ECU type as well as the CPU chip type. The wiring diagram is also based on the ECU type and CPU chip type.
pcmflash 1.99 can read the data for all the [71] ECU types via boot cable instead of removing the ECU, but it requires to connect GPT0 and GPT1 cable.
For example, if the ECU box removed from the car is edc17 c54, then the CPU is tc1797, just follow our supplied wiring diagram to connect the ECU instead of removing the ECU, good to know: GPT0 and GPT1 cables must be connected, then choose 1797 cpu option.
KTM Bench pcmflash 1.99 reads the ECU data by dismantling the ecu and connect the boot, which is as the same as KTMflash 1.95. It requires to read the password first, then choose "read the data".
Posted at 01:17 am by youobd2
Permalink
Sunday, May 12, 2019
Toyota Prius 2005 KM reading & writing digiprog problem
Toyota Prius 2005 KM reading & writing, 
Digiprog 3
 has problem, 
orange 5
,
Carprog
, 
Digimaster 3
 are all ok, go on reading for instruction. Car model and year: Toyota prius 2005y dash Purpose: Read and write KM
Tool to test:
1. digiprog 3: Failed Using soldering points as it is showing in manual. After reading I got wrong mileage 1114095km…original mileage is 275 000km. but after writing that km which you need, dash shows everything ok in car.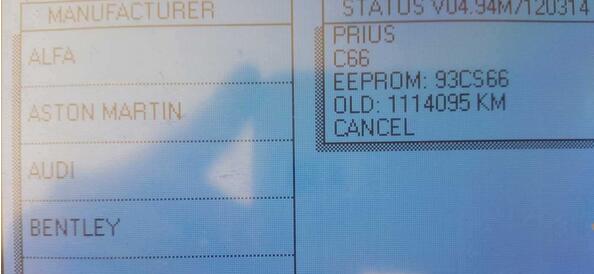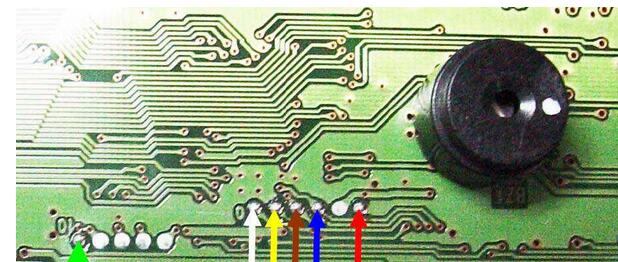 2.orange 5 programmer + nyo : success
I read it with orange 5 programmer without any problems. Calculated with nyo, as landruiser 93c66. Attached 100% working pinout reading in circuit, maybe someone would be useful this post in the future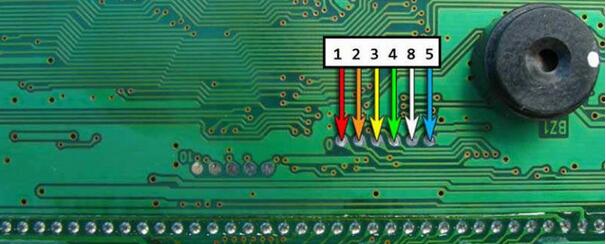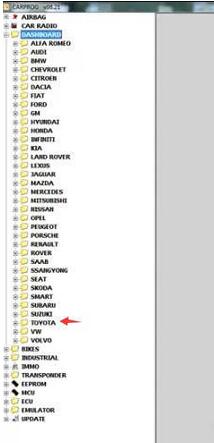 3.Carprog full firmware V8.21 : success
Carprog is ok for tis dash–prius 93c66 Change KM Toyota Prius 2006 93C66 for example: Remove unit from car. Open it and find internal 93C66 EEPROM memory inside. Use the Carprog A4, A5 or A6(due to situation) EEPROM adapter and change mileage. In most cases need to remove EEPROM from the board. Open carprog full software Select Dashboard->Toyota->Prius->Prius Yazakj 93C66 v0.4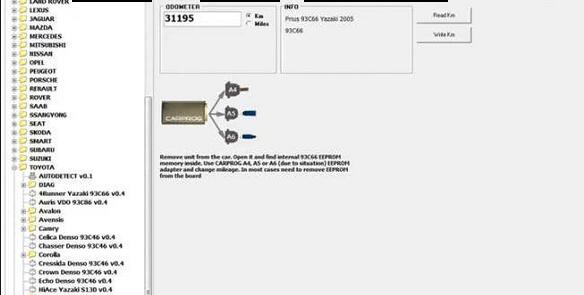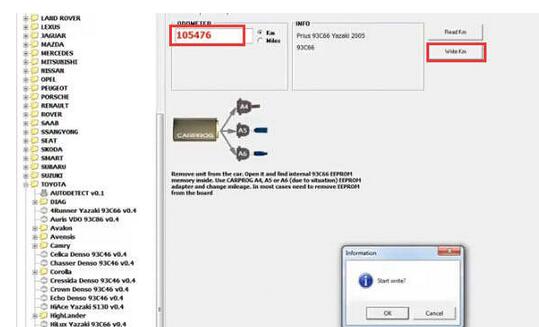 Manually enter mileage you desired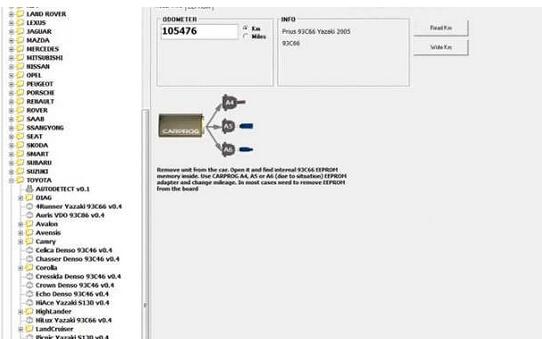 Press Write KM Write KM success.
4.Yanhua digimaster 3 : success
I recommend Yanhua digimaster 3, it works for Prius 93c66. Method: it needs to dismantle the dashboard and read the data.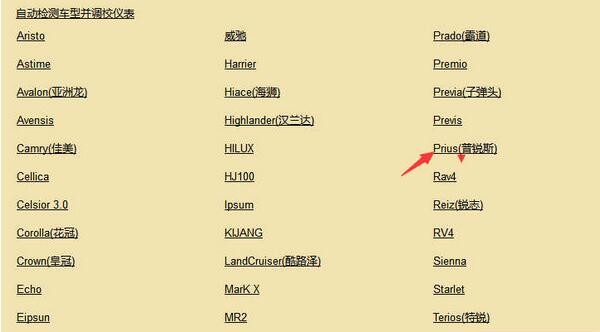 Posted at 02:24 am by youobd2
Permalink
Wednesday, May 01, 2019
Launch X431 V 8 inch Table Special Function
LAUNCH X431 V is a new diagnostic tool release by Launch tech. It composed of an X-431 V pad computer, a protection sleeve, a DBScar diagnostic connector and many OBD1 to OBD2 connector. It communicate with your car by DBSCAR connect with bluetooth, it read car DTC and do diagnose function by the launch X431 Pro Pad computer, it achieves launch X431 series full car model and full system diagnose function, it can replace launch X431 Diagun III or launch X431 IV.Meanwhile, taking advantage of mobile internet, it integrates more application and service, such as creating maintenance data base and case library, providing instant maintenance information, establishing public and private maintenance social circle etc. As a result, it builds a broad vehicle diagnostic community, which helps you to share vehicle maintenance knowledge online, exchange vehicle maintenance experience online and provide vehicle maintenance related service support online. This will be another revolution raised by Launch in the vehicle diagnosis industry.
Launch X431 V 8 inch is a new Android-based vehicle trouble diagnostic device developed for internet applications. it inherits from LAUNCH's advanced diagnosing technology and is characterized by covering a wide range of vehicles , featuring powerful functions, and proving precise test result.
Through the Bluetooth communication between vehicle diagnostic connector and variant mobile intelligent terminals , is achieves X-431 series full car model and and full system vehicle trouble diagnostic which includes Reading DTCs, Clearing DTCs ,Reading Data Stream , Actuation Test and Special Function
Top 9 Reasons to buy X431 V 8″:
1. Completely replace X431 V 7inch and have bigger screen.
2. Support multi-language: English, Italian, Chinese Simplified, Chinese Traditional, German, Japanese, Russian, French, Spanish, Portuguese, Polish, Turkish, Dutch, Greek, Hungarian, Arabic, Danish, Korean, Farsi , Romanian, Serbian, Finnish, Swedish, Czech
3. Support communicate with vehicle via Bluetooth, Bluetooth distance: 10M(Without Obstacle)
4. Support full system diagnosis and fast running speed,Reasonable PDA design, easy to carry
5. Supports up to 96 car brands about 220 car models from European, USA and Asian
6. Free Update online for 2 years, after 2 years it is 499USD/year. Dealer code: 755D
7.No need to open registration authorization. No IP, no country and language limitation.
8. Support Remote control diagnosis function via CC number.
9. If your Bluetooth OBD2 connector is broken under the warranty, we will send you new one without any charge.
Comparison between X431 V 7″ and X431 V 8″:
1. X431 V 8″ have bigger screen size, better view.
2. X431 V 8″ has bigger Bluetooth adapter with LED indicator.
3. X431 V 8″ has higher hardware configuration.
Launch X431 V Update:
Let's you update your diagnostic software more efficiently.
Launch X431 V Vehicle List:
Changan, Daweoo, Huachen, Lexus,Ford, ZhongXing, Bently,Euro Ford,Jatcy,VAZ,Porsche, QIRUI_TY,Maserati,BMW,GM,Seat,Isuzu,Jinlong, USA Ford,Lancia,Peugeot,Suzuki,HM, Maybach,Luxgen,Toyota,VW,Changan, Audi,Citroen,Honda,Land Rover,Liuwei_TY,XINKAI,BXFIAT,Smart,JPIsuzu,Kia,Renault,
Skoda,Sprinter, Rover,Weili, Bugatti, EOBD,Hafei,Haoqing,Nissan, Xiali, Zhongshun, Romeo,AustFord, Acura, Mercedes-Benz, Changhe,Fiat,Volvo,
Mazda,Zhongtai,Jaguar,Opel, Rolls Royce,Chrysler,Daihatsu, Flyer,Hyundai, BXGM,Subaru, Ssangyong,Ferrari, Infiniti,Dacia,Saab, GAZ,JIAO,Mitsubishi,AU Holden,MAHINDRA,MARUTI,TATA,PROTON, PERODUA(PERODUA),QOROS
Posted at 01:05 am by youobd2
Permalink
Thursday, April 18, 2019
Autel MaxiSYS MS906TS Professional Car Diagnostic Tool Review
At first sight, the AUTEL MS906TS looks a whole lot like an ordinary tablet. With an 8-inch LED display and dimensions of 10 x 6.9 x 1.4 inches, this OBD2 scanner fits in a hand as comfortably as any tablet. It has a weight of just 2.42 pounds, so carrying it around shouldn't be a problem.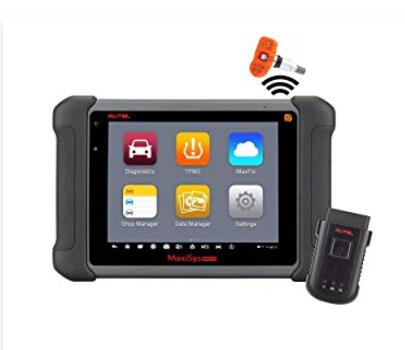 Portability of a diagnostic scanner is very important, especially for auto technicians. Ideally, you want a device that you can walk around with, whether inside your shop or out in the field. That's exactly the kind of convenience offered by the lightweight and compact size of the Autel MaxiSYS MS906TS.
More importantly, its build with professional mechanics in mind. Pretty much every Autel MS906TS review will tell you that this device is packed with all the features needed for use in a professional auto shop. That includes a 6-core Samsung Exynos T5260 processor and 2GB of RAM for fast processing of diagnostic data.
What's In the Box?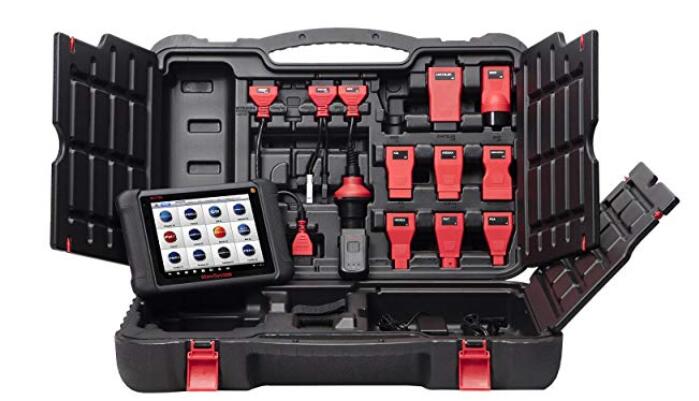 The Autel MS906TS is shipped as a complete package with all the connectors and accessories that you need. Alongside the scanner itself, you also get the main OBD2 connector as well as vehicle-specific adaptors for GM/Daewoo-12, BMW-20, Mitsubishi/Hyundai, Benz-14, PSA-2, Benz-38, Nissan-14, VW/AUDI-2+2, Chrysler-16, Fiat-3, Kia-20, and Honda-3.
Note that the MaxiVCI V100 is also included for wireless connections. Connectors and adapters are cables that link the tablet with the car's on-board computer when plugged to the OBD2 port. If you want to connect wirelessly you can do so using either Wi-Fi or Bluetooth.
In that case, you plug the MaxiVCI V100 to the OBD2 port, activate its Wi-Fi or Bluetooth and then pair it with the Autel MS906TS scanner. After pairing the scanner will be able to communicate with the car's on-board computer wirelessly.
Also included in the package is a user manual, reference guide, light fuse, cigarette lighter, packing list, mini USB cable, compact disc (CD), AC/DC external power adapter and a soft cloth for cleaning the parts. All the components are neatly organized in a black carrying case.
Why Should You Buy Autel MS906TS?
So far in this Autel Maxisys MS906TS review, we have seen that this scanner is a well-built device that is super-fast. It also comes complete with all connectors and accessories. Well, those would pass as two motivations to buy the scanner. How about we look at more convincing reasons why it makes a good buy.
Professional-Level Diagnostics
The Autel MaxiSYS MS906TS does everything, from reading codes to ECU programming and everything in between. Once connected, it automatically pulls the VIN details of a car. From there you can proceed to read and clear codes or check for other faults in ANY car system.
It supports a plethora of service functions like TPMS reset, oil service reset, EPB reset, DPF reset, camshaft gear learning, SAS calibration, injector coding, BMS service etc. Additionally, the Autel MS906TS performs bi-directional tests for ABS, lamps, actuators, auto bleeding, idle up manual control, automated tests, function tests and pretty much every other bi-directional test you can think of.
A Little Something About Bi-directional Tests
Essentially, Autel MS906TS is a professional bidirectional scan tool. The scanner can perform system tests as well as actuate injectors, relays, and coils. By doing so the MaxiSYS MS906TS helps you determine the efficiency of that particular system. It does so by sending and receive commands to and from the system.
As a user, you can observe how the system parameters change in real-time. That will tell you whether it is performing optimally. For example, a bi-directional ABS test will allow you to send commands to the ABS system, in the same way, the car's on-board computer would.
By observing how that system responds to the commands, you can determine whether it would respond to the ECU's commands as required. If not then it means there's a problem that needs fixing. If so then your ABS is clean as a whistle.
Back To Professional Diagnostics
As far as the actual professional functions, you can use the MaxiSYS MS906TS for adaptations, matching, coding and relearns. Things like key coding, ECU coding, ECU programming, TPMS relearn and any sensor relearn should be a breeze with this diagnostic tool. There's a built-in 8MP camera with a flashlight to help you illuminate dark parts during diagnostics.
The Autel MS906TS provides freeze frame data in addition to live data. If you are more comfortable with graphical data you have the option to view PIDs as full-screen waveforms. Besides, it allows you to print and/or save the data. There's a built-in memory with a 32GB SSD storage capacity for holding the data.
Finally, the built-in 10000mAh lithium polymer battery keeps the scanner going even when it's not connected to a power source. You may need that kind of service when you are using Bluetooth or Wi-Fi to run diagnostics.
Built-In TPMS Antennae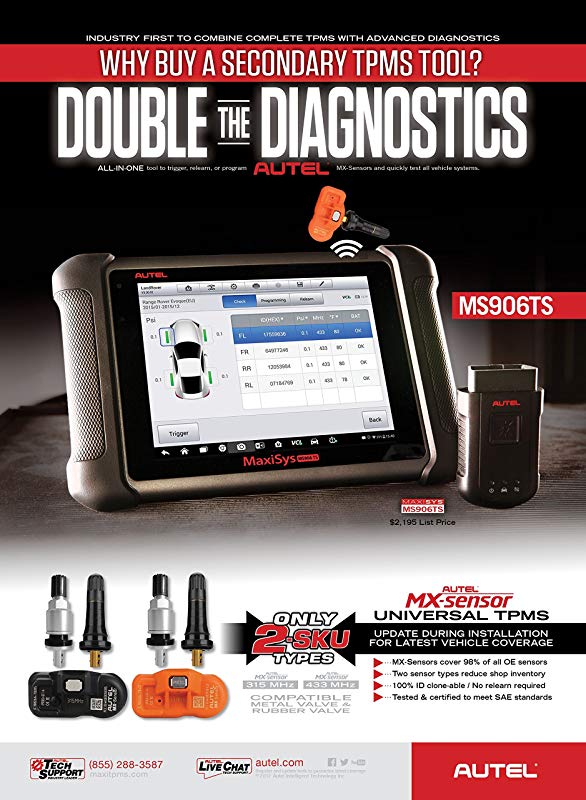 This is the one feature that sets this device apart from other Autel scanners like the MS906BT, MS906 and even the costlier MS908. Built with an integrated TPMS antennae module, the Autel MS906TS is not only capable of triggering OEM TPMS sensors but can also program TPMS sensors and perform TPMS sensor relearns.
In other words, this device can transfer new TPMS sensor IDs directly to a vehicle's ECU. If you are an auto mechanic you understand that most foreign cars usually require a comprehensive relearn procedure before being sold or used locally. When it comes to TPMS relearn, the MS906TS will initiate the process automatically and save you from the hassle of doing it manually.
Extensive Connectivity
Although it comes with OBD2 adapters, the Autel MS906TS also supports Wi-Fi and Bluetooth connections. In other words, you can ditch the cable completely and use a wireless connection to run diagnostics.
It uses Bluetooth 2.0+EDR and 802.11 b/g/n Wi-Fi. This type of Bluetooth is not only built for secure connections but it also supports Enhanced Data Rate (hence the EDR) for faster data transfer. The only problem is that it's only suitable for short-range data transfer.
Luckily the MS906TS offers a solution for that. The 802.11 b/g/n Wi-Fi module covers a fairly long distance. With speeds of up to 54Mbps, this connection lets you run diagnostics from outside the car.
Note that you will need an OBD2 dongle that supports Bluetooth, Wi-Fi or both for you to use this scanner's wireless connections. That's a small cost to pay considering how enhanced your mobility will be.
While Bluetooth and Wi-Fi are the most important connections, at least as far as diagnostics, they are not the only ones supported by the Autel MS906TS. It also features USB 2.0, Mini USB 2.0, SD Card, HDMI 1.4a and Class1 ports.
Wide Vehicle Coverage
The functions above make the case for the Autel MS906TS. But to top it all off, the scanner has an impressively wide vehicle coverage. It works on over 80 brands of OBD2-compliant vehicles, domestic and foreign.
That means if a car was manufactured after 1996 then it should be compatible, provided it has the 16-pin OBD2 port. For a complete list of covered vehicles please visit Autel's website. You can reach them for inquiries regarding the compatibility of your car.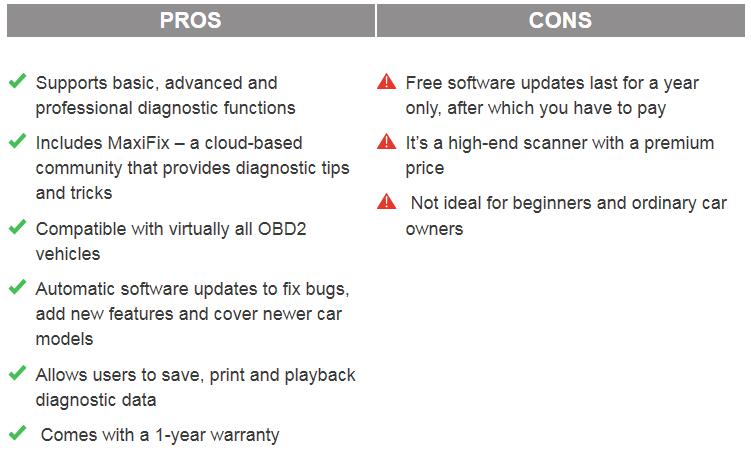 Posted at 08:42 pm by youobd2
Permalink
Saturday, April 06, 2019
Lonsdor K518ISE Software Optimization
Lonsdor K518ISE Software Optimization:
1. VW IMMO2 &IMMO3【 Read PIN】
2. VW IMMO4: Enable more dashboards to auto-identify immo type
3. Skoda IMMO2 & IMMO3 [Read PIN]
4. Skoda IMMO4: Enable more dashboards to auto identify mmo type
5. BMW CAS: CASL is available: CAS2/CAS3 【 Delete key】.
6. BMW FEM/BDC: Suport swfl_00002419_071_010_040,swfl_00002419_080_010_010
software version
7. Toyota: Optimize menu [Select from vehicle]
8. Dodge/Chrysler/JEEP & Honda
9.Hyundai/Kia: Optimize【Read46 chip PIN】and【 Read PIN code (46 smart
card)】, support obtaining PIN via LKE decoding
10.BYD: [Generate working key], support generating SK via LKE to obtain PIN
1. Porsche: Optimize key programming procedure.For Bote(2005-2011)/Cay-
man(2005-2011)/997(2005-2010)/911(2005-2010),support bypass programming with LKE.
Lonsdor K518ise Latest Update SCION
Posted at 08:28 pm by youobd2
Permalink
Monday, April 01, 2019
How to activate Xentry and EPC for MB Star C3 and C4
If you buy full set 
MB star Compact C4
 and 
Benz star c3
 from us, we will activate xentry, EPC and WIS before we send the parcel to you. You also can buy the keygen from this link: https://www.obd2tool.com/goods-335-MB+SD+Connect+Compact+4+Star+Diagnosis+Tool+Plus+Dell+D630+Laptop.html MB SD Connect C4 Dell D630 version: Now I will show you how to activate the EPC and WIS. Follow below steps, you will find the activation for EPC and WIS are so easy: Step 1: Open EWA.net, you can find it on desktop or in Internet Explorer "Favorites" folder. Enter the User Name as admin, Password as 12345.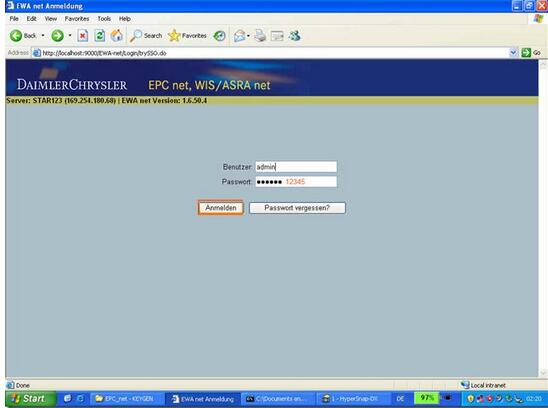 Step 2: Click the Server, and then choose Serverlizenz bearbeiten.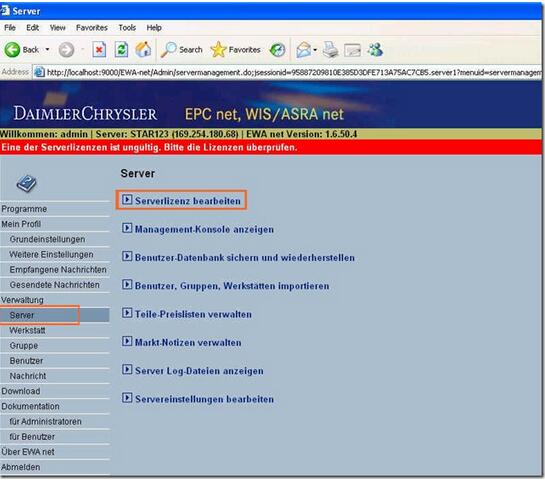 Step 3: Get the MAC-Addresse (also named Lan-ID)
Step 4: Open your EPC_net-KEYGEN folder, it is on your desktop. Then run EWA_kg.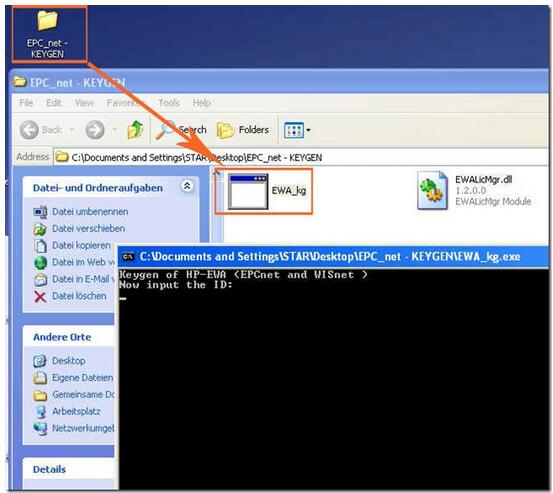 Step 5: Input the MAC-Addresse /Lan-ID (you have got it on step 3) , Expiration year, Expiration day, Expiration month and Number of Users. For year, day and month, you can input any number you want to. E.g. 2020.01.01 or any other date.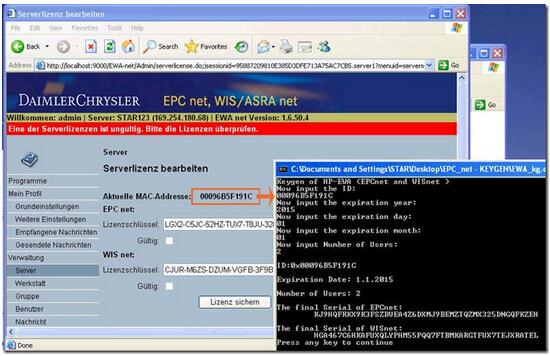 Step 6: Input the Serial OF EPCnet and Serial of WISnet to EWA.net Serverlizenz bearbeiten. Then save the change.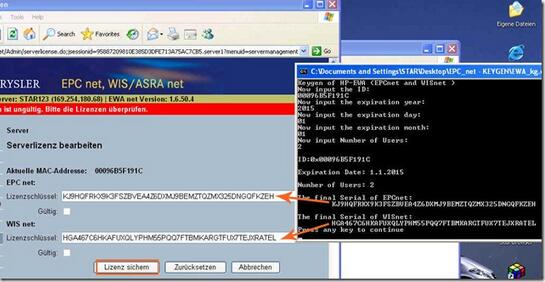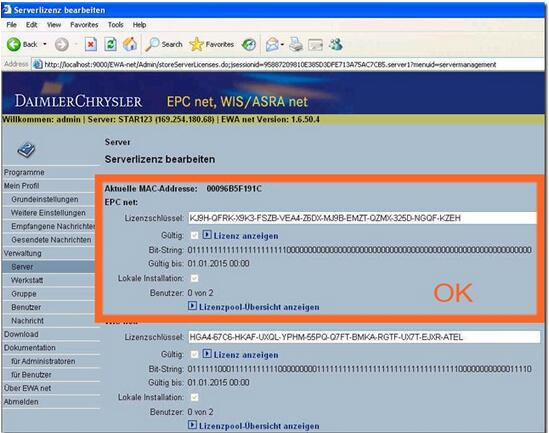 Now all have done, you can enjoy your EPC and WIS now.
Posted at 02:54 am by youobd2
Permalink
Tuesday, March 26, 2019
Renew Chervolet Cruze 7952E Smart Key by OBDSTAR X300 DP PLUS
How-to:  Renew Chervolet Cruze smart key 7952E by OBDSTAR X300 DP PLUS (Key master DP Plus) tablet.
Chip Type: Chip 46
Smart key type:  7952E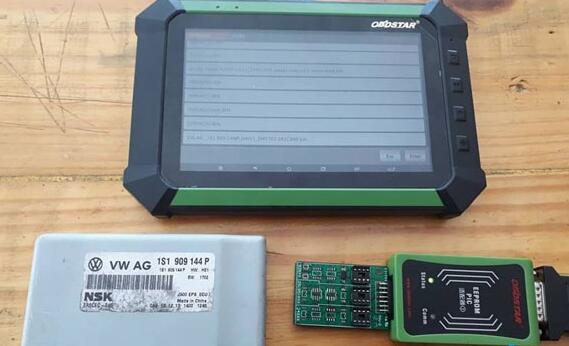 Frequency:   434MHz
Disassemble the remote key
In X300 DP PLUS, select Diag Program-> Renew Key->GM->Buick Smart Key 315MHz->
Keylessgo_13500225_1358425_4keys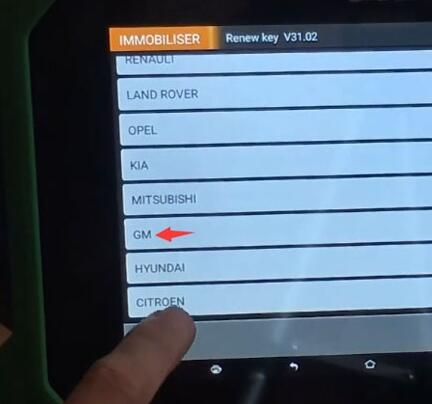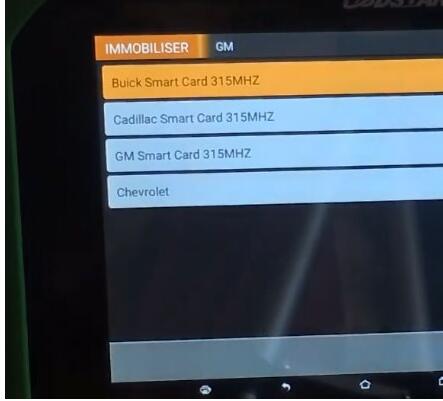 Then check the wiring connection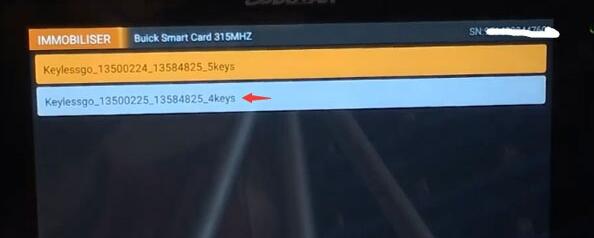 Connect test probe with OBDSTAR P001 adapter and X300 DP PLUS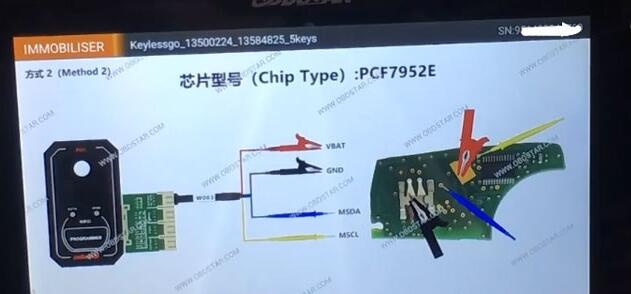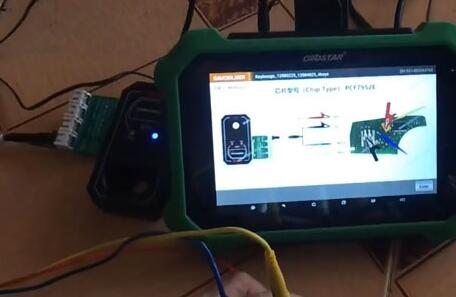 Press Enter to write data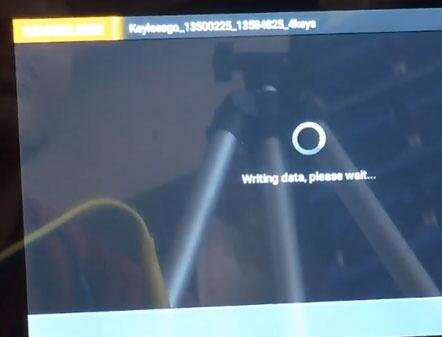 Renew key success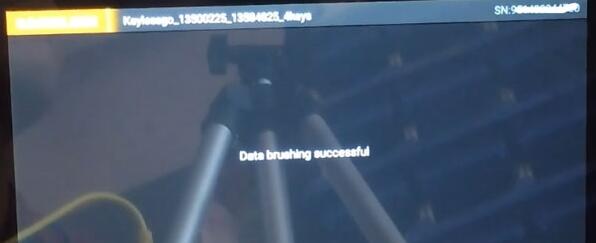 Posted at 09:00 pm by youobd2
Permalink
Friday, March 15, 2019
CG-100 Update to V5.0.3.0
CG-100 V5.0.3.0 Update details:
1. Mileage(8 Pin), added support model:
BAIC Weiwang M50 A00062144
Baojun 730 23950964
Baojun 310 23979787
Baojun 560 23981822
Baojun 730 23930731
Baojun 310 23893177
Brilliance-auto V3 QZB1061C
Brilliance-auto Junjie TW80000316
Brilliance-auto V6 QZB1091B
BUICK LaCROSSE 13518371
BYD S6 3820010F
CHANGHE CHANGHE BEIDOUXING ZY-ZB112B-13 34100D6DJ30
Dongfeng Fengshen AX3 Z410010J-F0500 QZB1068
Dongfeng Jingyi X5 94103-01 BM3-3820020
FAW BenTeng R9 3820015ABK01
FORD Transit ZB168F1T
GEELY Yuanjing X6 451003 QE17WT1K16791
GEELY Yuanjing 94206-05
GEELY Yuanjing 942210-270
GREAT?WALL Havel H6 3820400AKZ54A
GREAT?WALL Havel H1 38200100XG83XA
GREAT?WALL Havel H2 3820100XSZ08B
GREAT?WALL Havel H6 3820100AKZ54A
Haima M6 FC5A-55-430
HYUNDAI VERNA 94003-D0010
JMC Yusheng GP2-10849-MA II
MITSABISHI Outlander MM0059-502
NISSAN Venucia T90 3230796-9
OTHER CHINESE CAR ZHOGNXINPICKUP G001268 3820010-1510 V3820
OTHER CHINESE CAR ZHOGNXINPICKUP G001268 3820010-1511 V3820
SUZUKI S-CROSS 34100-66MA0-00
TJFAW XIALI N5 83800-TBA20
TOYOTA PRADO 4000 83800-0G022-A
TOYOTA COROLLA 83800-F2A50 II
TOYOTA PRADO 80800-6AG80-B
TOYOTA Sienna 83800-08590-00
TOYOTA COROLLA 83800-F2U50
TOYOTA Highlander 83800-0E660
TOYOTA Yaris 83800-0DX40
TOYOTA LAND CRUISER 200 83800-6AD30-F
TOYOTA CROWN 83800-0N160 II
WULING Rongguang 23888822
WULING Rongguang ZB169N-C
WULING hong guang S 23902989
WULING Rongguang V 23957308
WULING Hongguang S1 23902135
ZOTYE Z300 3820010-A01
ZOTYE T300 3820010001-M12 3820BL
2. Mileage(8 Pin), algorithm update:
GREAT?WALL Havel H2_3820100XSZ08A
HYUNDAI VERACRUZ 94003-3J390
3. Added search function features in 9S12, Atmel, MB91, M35080, Airbag, ECU, BCM, Amp, and Other pages.
Added search chip functionality to the Programmer page.
4. Now connection is interrupted when MAC724x chip erase, will prompt an error message.
Posted at 12:57 am by youobd2
Permalink